Build your capacity to gather and manage data.
At PolicyWise for Children & Families, we have years of experience collecting and managing data of all types. Along the way we have learned from many organizations and partners. With the Data Lifecycle and Demographic Datapedia, we want to share what we have learned to help you build capacity in your organization and improve the way you collect and use data.
Video 1: Start here if you're new to thinking about demographic data.
Video 2: Watch this to learn more about the resources on the Build Better Data site.
What do I need to know to collect and use data well?
We have created the Data Lifecycle as a resource to be used to help think about how to collect meaningful, useful, and well-managed data. Explore each section to learn more about the iterative phases of the data lifecycle.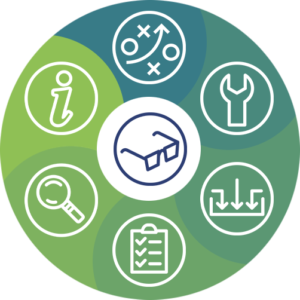 How do I collect demographic data well?
Use the Demographic Datapedia as guidance for thinking about, and implementing, the collection of accurate, meaningful demographic data. The guidance in each demographic data entry reflects a synthesis of practices and considerations from non-profit stakeholders, and recognized standards in capturing demographic data. Taking time to review sections of the Data Lifecycle will further ensure you are building better data.

Indicates Datapedia entries that are still being developed.
Do you have additions to suggest to the Datapedia? Or, do you want to learn more about working with data?
We'd love to hear from you. Contact us at info@policywise.com.
This work was made possible with generous support from: